Top 13 Free Astronomy Software, Programs, and Online Telescope Tools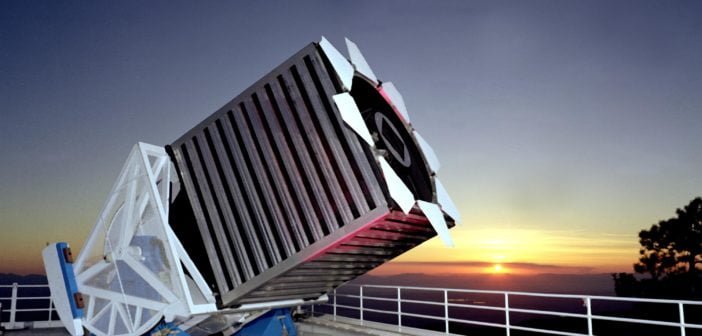 Top 13 Free Astronomy Software, Programs, and Online Telescope Tools
Astronomy is the science in which we study celestial objects and related phenomena. It applies mathematics, physics, and chemistry to explain their origin and evolution. Astronomy is a vast subject, It deals with stars, planets, nebulae, galaxies, black holes, etc.
We humans have an unsettling urge to observe and understand this vast universe. The universe is beyond our sense of ordinary perceptions. Scientists have built telescopes, radio telescopes, satellites, and other means to look into vast space.
Although it's a broad research field meant for professional scientists. People take interest in knowing about celestial objects and the universe as a hobby.
But, the lack of equipment hinders our interest to go further and have a taste of astronomy. But now in this era of the internet, we have many good things and one of them is the use of Astronomy Softwares and Online telescopes.
Here, we have gathered a list of astronomy software and online applications and online telescopes. These tools will help not only for the hobby but for those who have serious interest. This free astronomy software can shift your hobby to become an active astronomer.
These softwares are useful to both professional and amateur astronomers. The most surprising fact is that they are all free!
Sloan Digital Sky Survey
The Sloan Digital Sky Survey (SDSS) is a major multi-spectral imaging and spectroscopic redshift survey. It uses a dedicated 2.5-m wide-angle optical telescope at Apache Point Observatory in New Mexico, United States.
It takes images using a photometric system of five filters (named u, g, r, i, and z). After processing the images, lists of observed objects and related parameters are produced. The data then reveals If they are pointlike or extended ( If it is a galaxy). Brightness on CCDs reveals various kinds of astronomical magnitudes.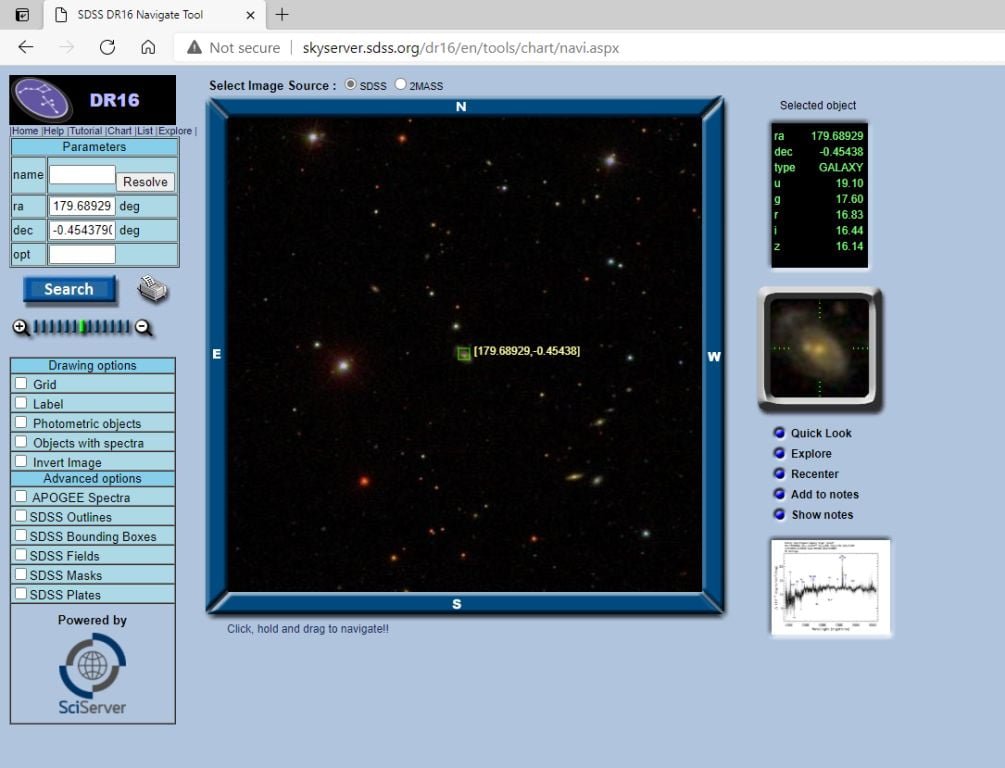 The survey data releases are available here. The SkyServer is a kind of online telescope that provides the interface to an underlying Microsoft SQL Server. Both spectra and images are available with an easy-to-use interface.
You can get a full-color image of any region of the sky providing the coordinates. The data are available for non-commercial use only, without written permission.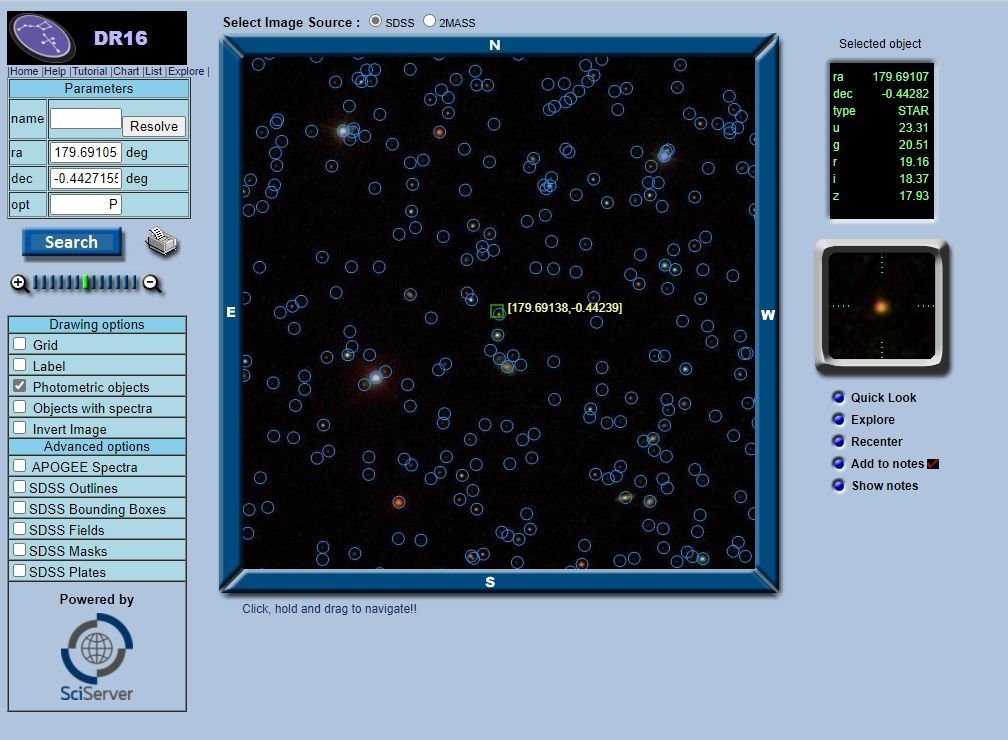 On the Sky Server website, you will find tutorials for everyone. From school children to professional astronomers to learn astronomy and use the data for research work.
C2A (Computer Aided Astronomy)
C2A is a planetarium software that allows you to create detailed views of stellar fields. C2A is an easy-to-use general-purpose Planetarium software. It has many functions for both professional and amateur astronomers. It helps to prepare observations on small fields as well as astrometry.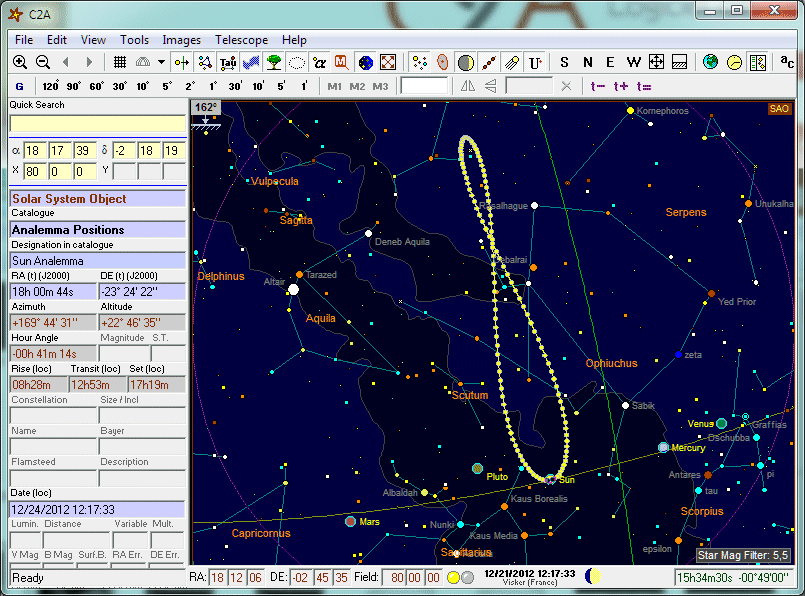 This free astronomy software gives access to star catalogs such as SAO, GCVS, Guide Star, USNO, etc, and also, the deep sky object catalogs such as Messier, NGC, PGC, and IC.
Aladin Sky Atlas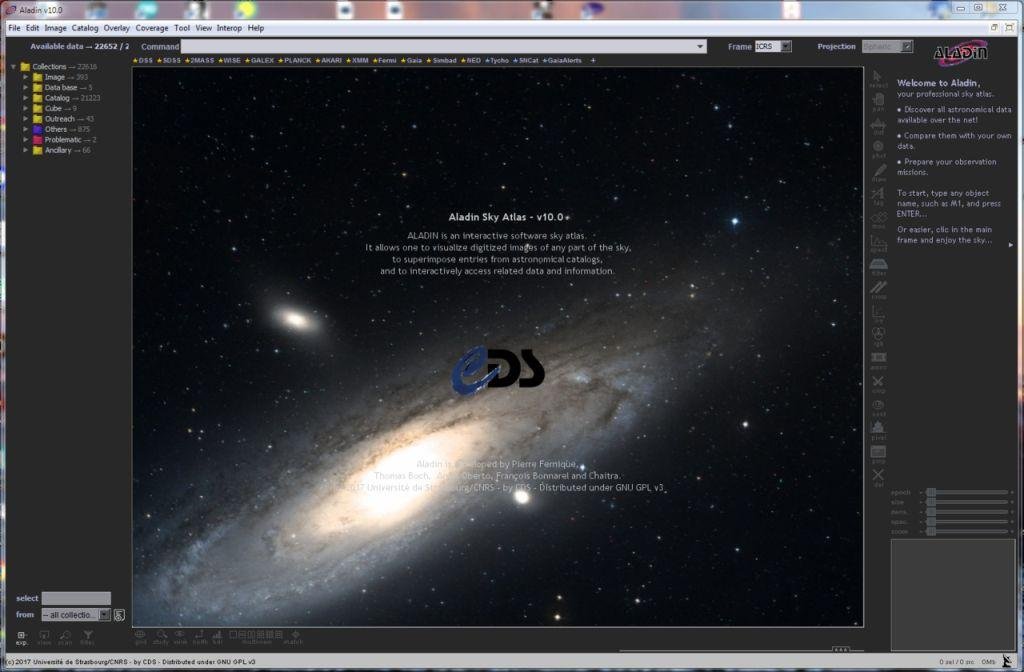 With Aladin, you can view astronomical images, superimpose entries from the astronomical database. this online telescope application gives you access to most of the astronomical servers worldwide like VizieR service, Simbad database, Hubble images, etc.
Stellarium.org
Stellarium is a free open source planetarium software. It shows a realistic sky in 3D. It shows the sky as you see from the naked eye, binoculars, or a telescope.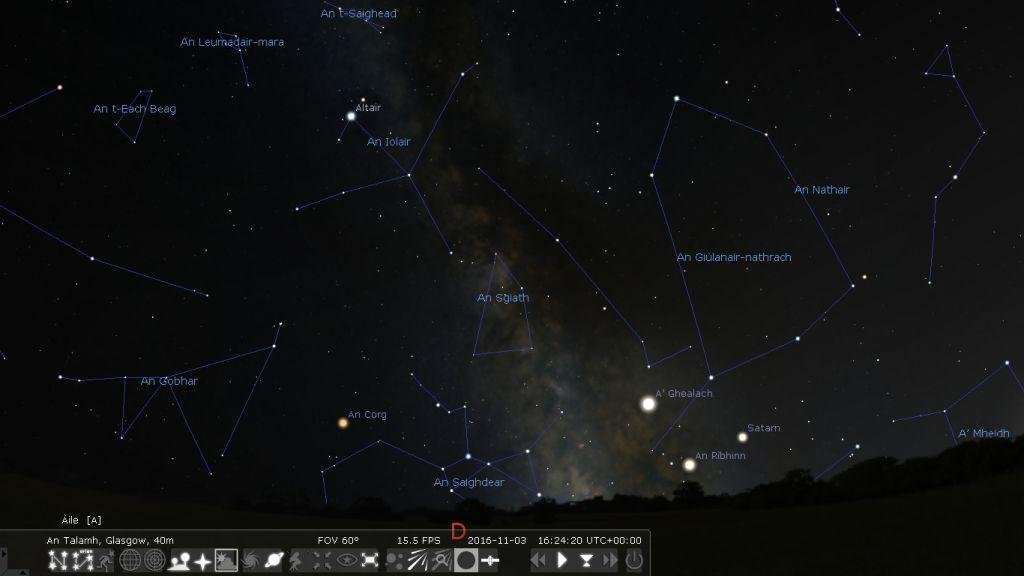 The planetarium software has catalogs of millions of stars, constellations, nebulae, planets, their satellites, etc.
This online telescope has features like equatorial and azimuthal grids, fisheye projection, eclipse simulation, time control, star twinkling, and many more to explore and experiment with.
You can also install Stellarium Mobile Free- Star Map on your mobile phone. Here is the link to download.
Sky-Map.org or WikiSky.org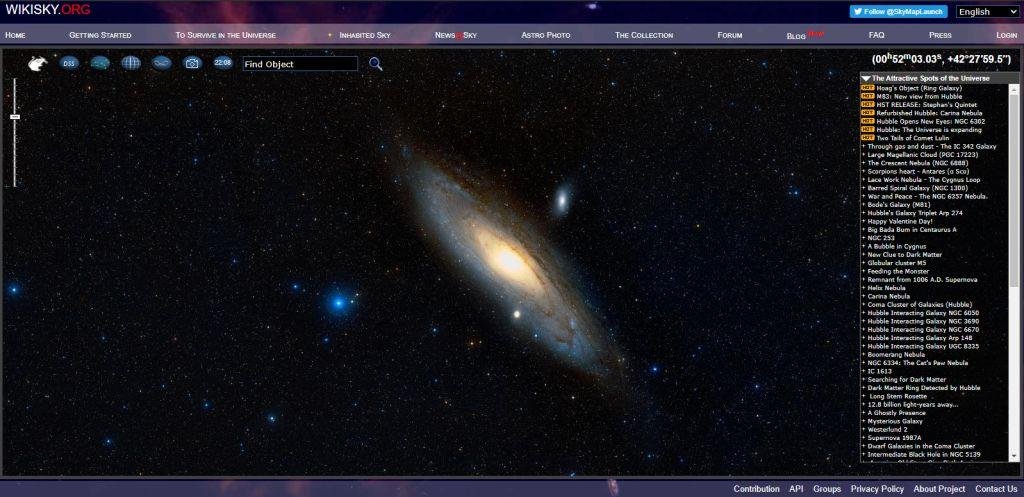 These online telescope websites are providing interactive sky maps of stars and celestial objects. You can zoom in or out for the whole star sky to see in detail. Also, you can edit the star information by writing articles, uploading relevant photos, and add extra links.
WorldWide Telescope (WWT)
This online telescope program also gives you the experience of viewing the sky through a powerful telescope. It combines both the images from the ground and space-based telescopes with 3D navigation.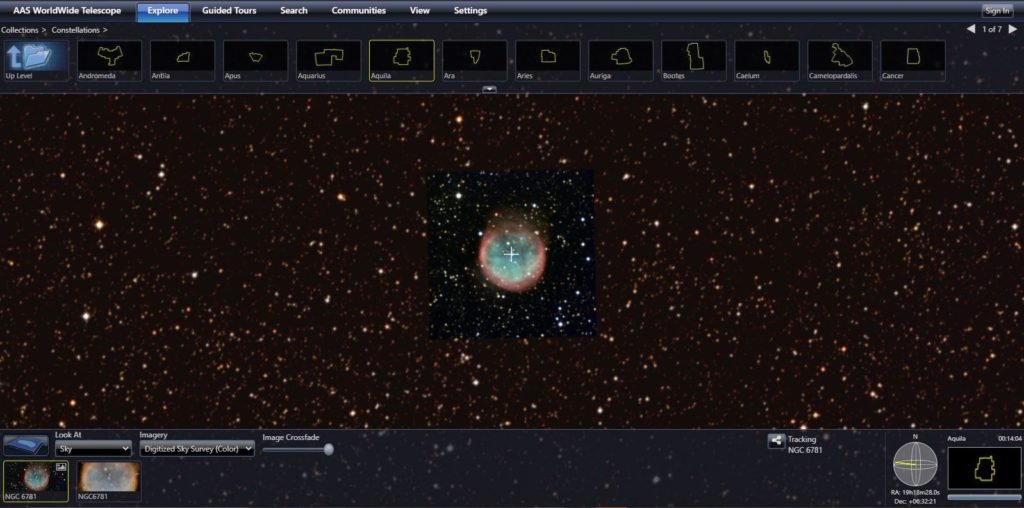 WWT comes in 2 versions: Windows Client and Web Client. Both have almost the same functionality. You can pan the sky and zoom in on celestial objects like constellations, stars, planets, nebulae, galaxies, etc.
Link to Web Client
The link to download the Windows client
Celestia — real-time 3D visualization of space
Celestia is an excellent free open-source 3D space simulation program by which you can explore the universe in three dimensions. Celestia can run on Windows, Linux, macOS, iOS, and Android.
Celestia doesn't confine you to the surface of the Earth as the other planetarium software does. You can travel through the solar system and go to more than 100,000 stars, or even beyond the galaxy.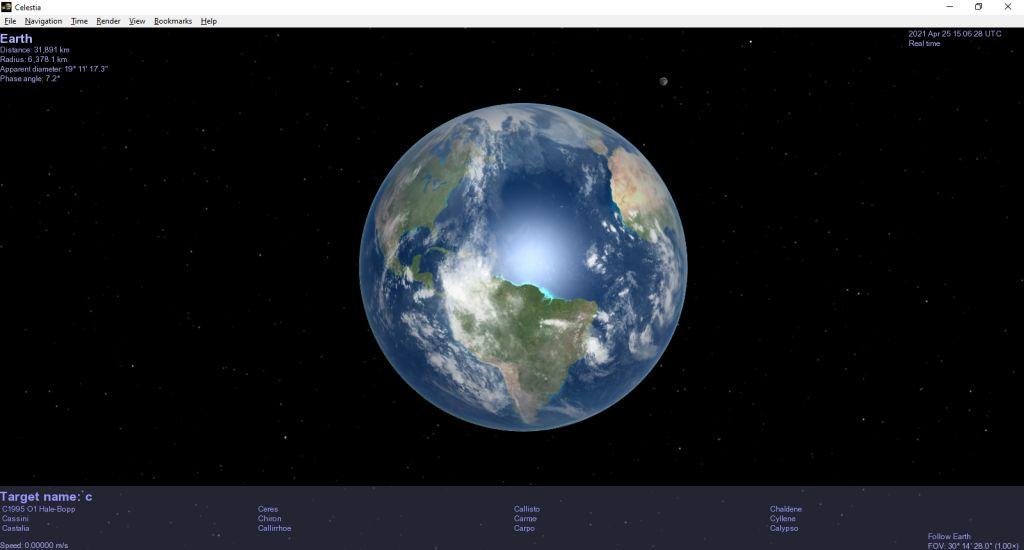 All movement in Celestia is seamless. A 'point-and-goto' interface makes it simple to navigate through space to the celestial object you want to go. you can visit every object from any point in space and time in the expandable database.
Celestia comes with a huge collection of stars, galaxies, planets, moons, asteroids, comets, and spacecraft and the catalog is even expandable. You can also download and install many add-ons with more objects. You can expand and Customize Celestia according to your needs. Even fictional objects from well-known sci-fi can be found.
Celestia also serves as a planetarium for an observer on any celestial object. You can navigate to any world and land on its surface.
Cartes du Ciel's SkyChart
This is a planetarium software that contains many catalogs of stars, planets, nebulae, comets, asteroids, etc. It helps you in making a sky chart for a particular observation. It has options to produce an elegant sky map.
You can customize the color of celestial objects, their dimension, add labels and grids, and many in-depth features. You can also superimpose the celestial images if needed.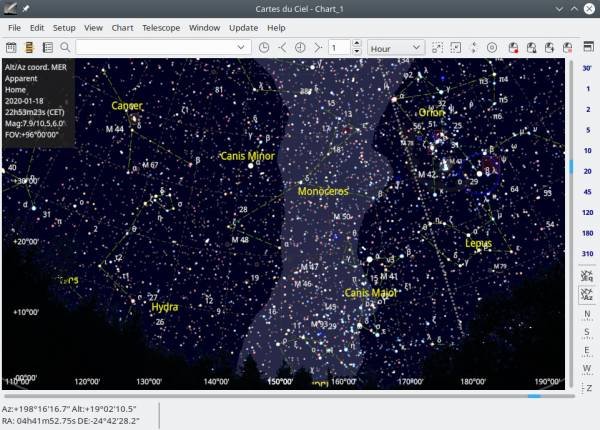 Orbiter
Orbiter is a free and realistic space flight simulation software in which you can experience space flight missions as a pilot. You can also simulate historic flights, plan interplanetary explorations, design spaceships, and many more.
Bored with space games and all that planetarium stuff that insult your intelligence and violate every law of physics? Orbiter is a simulation in which you can feel the thrill of space flight of today.
You the commander of your spacecraft can Launch the Space Shuttle from Kennedy Space Center and rendezvous with the International Space Station. You can simulate historic flights with addon spacecraft packages: Mercury, Gemini, Apollo, Vostok, and more.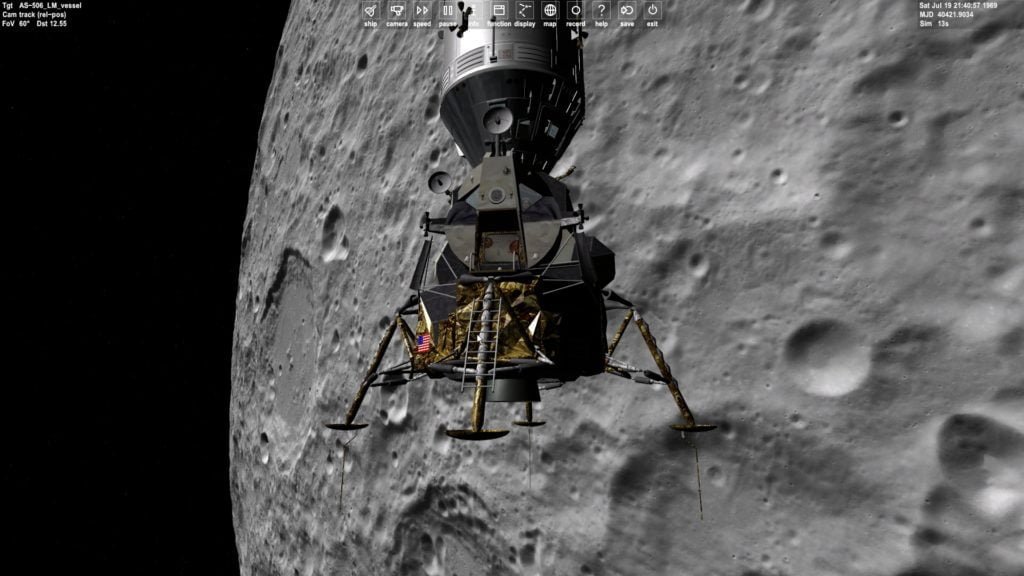 Plan interplanetary tour of the solar system with futuristic spacecraft to explore new worlds full of high-resolution models of celestial objects.
You can design your rockets or download addons created by other users. You can learn the key concepts of space flight and orbital mechanics by playing and experimenting.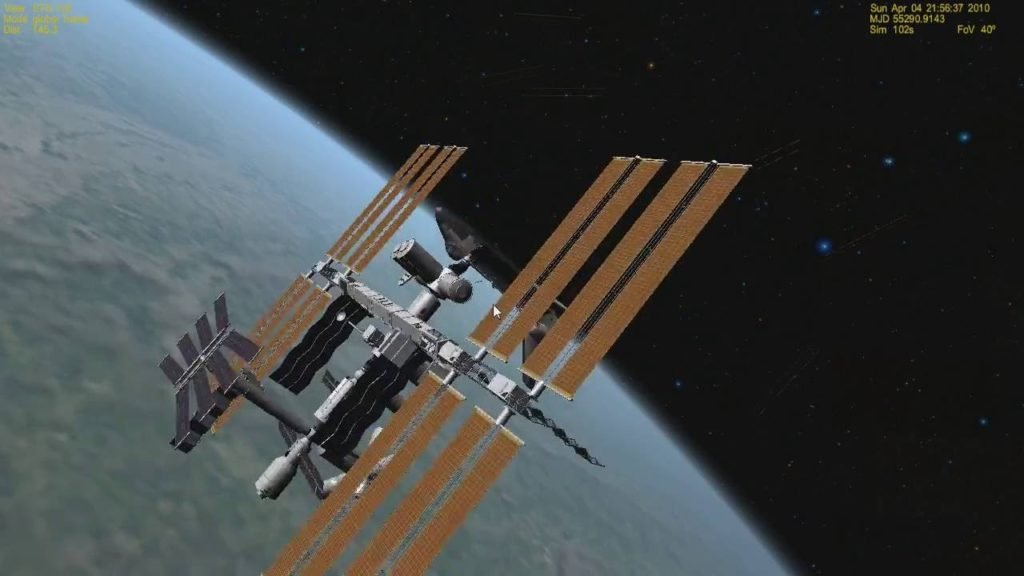 Planetary bodies also support realistic terrain maps for modeling mountain ranges. You can also learn the basics of C++ programming by writing your own Orbiter plugin modules.
Home Planet
Home Planet is a sky map, based on Yale Bright Star Catalogue, the 256,000-star SAO catalog. The home planet can render spectral types, planets, earth satellites, asteroids, and comets.
Home Planet allows you to view an earth map with day and night regions, Moon location with current phase, and position of a selected earth satellite.
It has a panel showing detailed position and phase data for the Sun and Moon. It also has a Panel showing positions of planets and a selected asteroid or comet, both geocentric and from the observer's location. It has a deep-sky database that includes all Messier objects and many of the NGC objects. Databases of the orbital elements of 5632 asteroids and principal periodic comets. Precession and proper motion are accounted for in the display.
It has a telescope window to show the plots of Stellar magnitudes of stars in a given magnitude range. This makes it easy to create comparison star charts for variable star observing. It also has very useful panels like Orrery Satellite tracking panel, View Earth From, Satellite database selection, Object Catalogue, Chart catalogs, which makes this program a nice tool for astronomers.
Winstars 3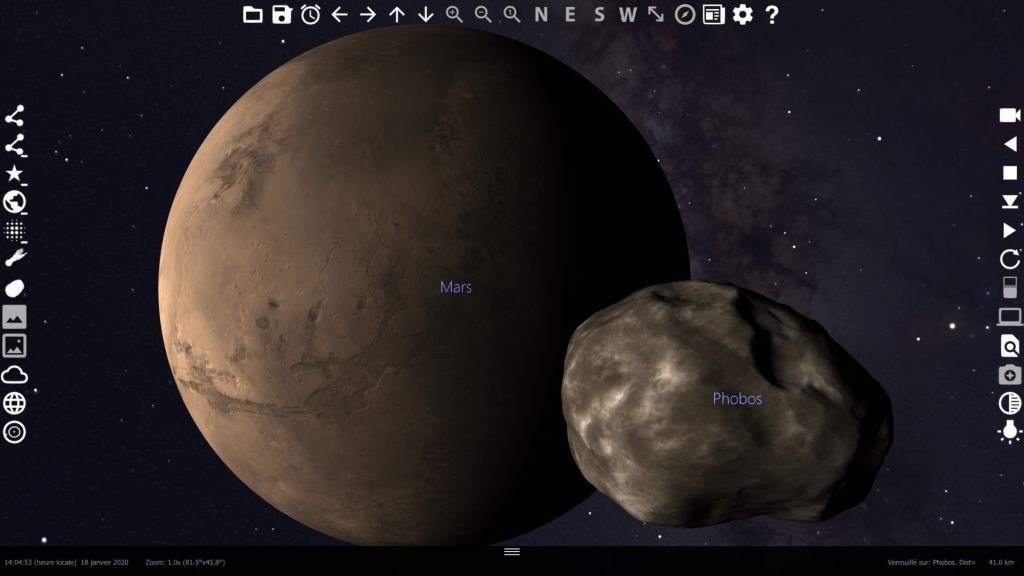 Winstars is a planetarium application for Windows, macOS X, iOS, Android, Linux, and Raspberry Pi.
It allows you to view realistic 3D maps of celestial objects in our solar system. This application has a database of over 2 million stars.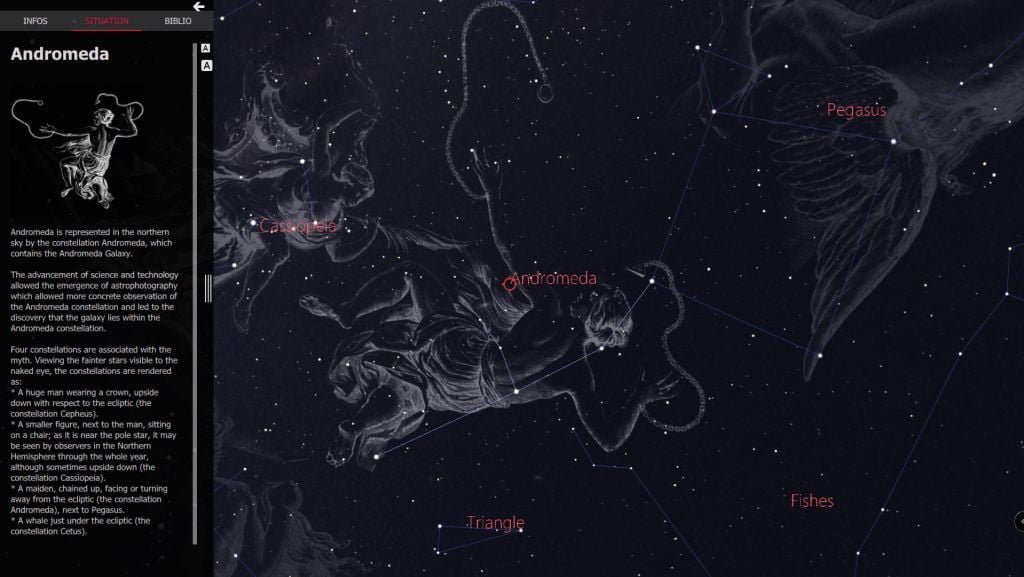 This online telescope application has a catalog of 10 thousand nebulae, star clusters, and galaxies, with detailed information about each object. You can also view the important curves like planet orbits, celestial equator, ecliptic, etc.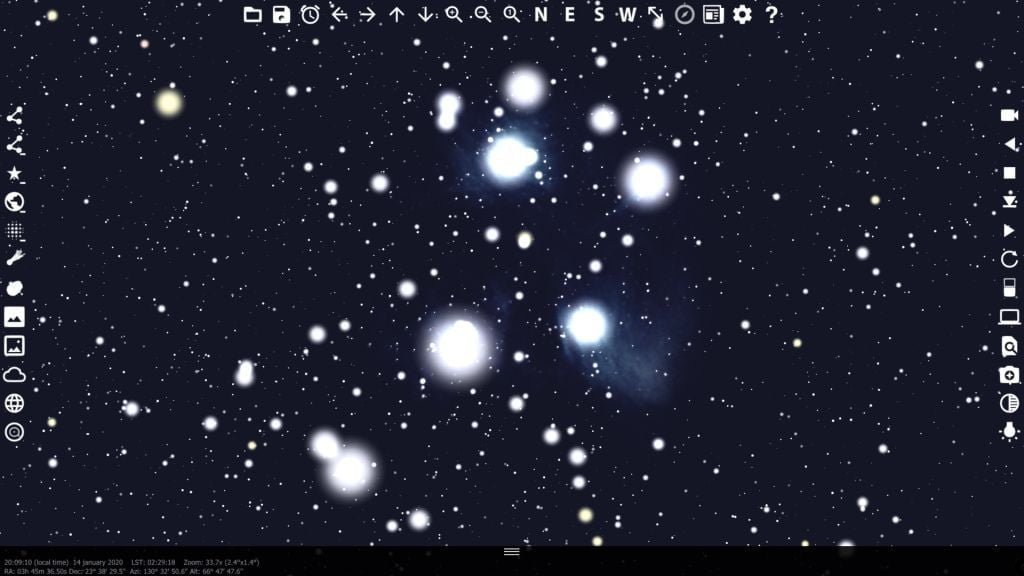 WinOrbit: Satellite Tracking
WinOrbit is free software that displays the position of artificial earth satellites. It shows the information like bearing, distance, and elevation w.r.t observer's horizon.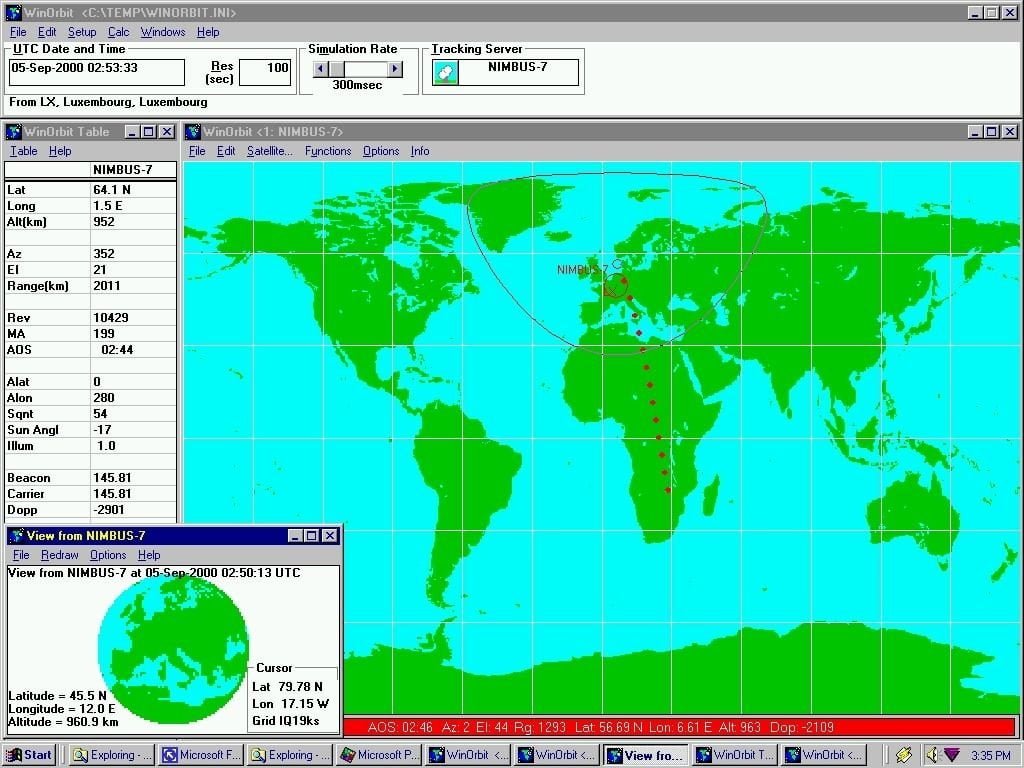 It updates all the information in real-time, manual, or simulation modes. It is helpful in orbital prediction and satellite tracking.